Though my official first internet fandom was Star Trek, my childhood games(about the contents of which the less said, the better) were all played in the Star Wars universe, yet until I recently saw Episode III, my attempts to get any writing finalized all ended in failure. Now it seems I am finally getting things posted. All fics will likely be prequel-based, and many of them contain slash.

Read my Obi-Wan/Qui-Gon fanfic.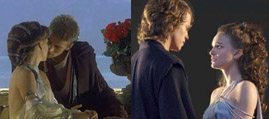 Read my Anakin/Padme fanfic.

Read my Handmaiden fanfic.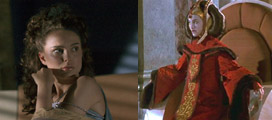 Read my 100 Padme AU ficlets.
Read my Dooku/Jocasta Nu fanfic.

Read my other Star Wars fanfic.
Return to The Writings of Miss Izzy